Description
Hawaiian Mission Houses Historic Site and Archives Presents the Tempest on DVD.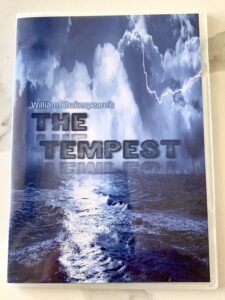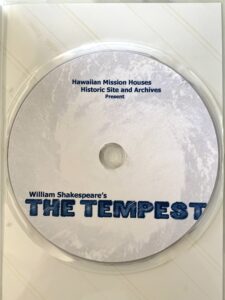 Directed by Will Ha'o
Starring:
Prospero: Moses Goods • Miranda: Therese Olival
Ariel: Sienna Aczon • Caliban: Kevin Keaveney
Ferdinand: Dezmond Gilla
Stephano: Adam LeFebvre • Trinculo: K.T. Kuroda
Alonso: Allan Okubo • Sebastian: William Ha'o
Antonio: Troy Apostol • Gonzalo: Steve Royal
Chorus: Kelly Wadlegger and Becky McGarvey
Costumes: Rose Wolfe
Sound Design and Props: Taurie Kinoshita
Lighting: Shandel Merendino
Stage Manager: Mari Nakamitsu
Sound Effects and Music: Toby Carvalho
We produce theatrical performances like our Shakespeare plays for several reasons. For one, the first special event ever held at this historic site was in 1908, just one year after the Hawaiian Mission Children's Society obtained the site and began restoration. The house was opened to visitors on April 4, 1908, and the major program was a single-scene play written by Gerrit Judd descendant James A. Wilder. His play was titled The Missionary Sewing Circle, and set in 1840. This play was followed by others in the ensuing years. In making theatre a major component of our programming, we are rediscovering and continuing our organization's traditional methods of interpreting the past.
We have focused on Shakespeare's plays, either his original plays or parodies of them, because many missionaries loved the Bard's work. Some were said to walk around with the Bible under one arm and Shakespeare under the other. Highlighting the broader interests of the Protestant missionaries to Hawai'i helps to humanize them for people today.
We are also being increasingly recognized for our Cemetery Pupu Theatre programs and other types of "history theatre." Theatrical performance can communicate emotion and the impact of past events more effectively than lectures or other forms of historical interpretation. Audience members connect with these "people from the past," helping forge a greater empathy for their lives–their trials and their achievements. As a theatre-going person yourself, you know that theatre appeals to our hearts, as well as our heads.