Description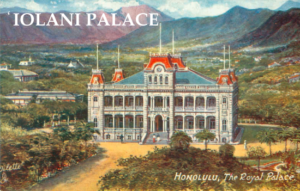 Written by Dr. Carol Maxym and MacKinnon Simpson, this book tells the story of the 'Iolani Palace in photos and words, from pre-palace (as we know it) to today.  The authors had unusual access to the Palace for photos, so readers will have the opportunity to see views of the Palace never seen or published before.
This beautiful 150-page book includes more than 200 color and historical photographs, period newspaper clippings, and explanatory text. The authors were allowed exceptional access to the Palace, allowing for photos of the interior never seen or published before. Researched from original sources, this Palace history provides an insightful tour not only through the Palace but through two centuries of Hawaii history.
Presented in a "coffee-table" style, this book invites readers to appreciate the full history and historical importance of the Iolani Palace through photos and intriguing captions. For readers with a deeper interest, the text delves into the history of the only royal palace in the United States. The ʻIolani Palace is truly a metaphor for two centuries of Hawaii history.